A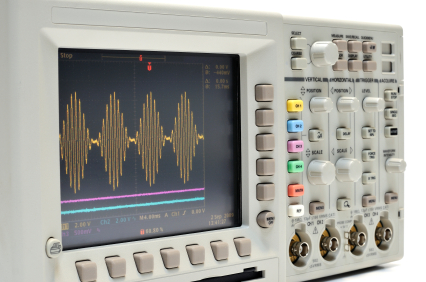 n oscillator
is a type of circuit that controls the repetitive discharge of a signal. This signal is often used in devices that require a measured, continual motion that can be used for some other purpose. For instance, a pendulum in a clock represents a simple oscillator. The pendulum swings back and forth in a controlled, constant motion, hitting two distinct points. The far edge of a swing represents when the pendulum has the most amount of potential energy to be expended when freed. When the pendulum is in the exact middle of its swing, it has the most amount of kinetic energy, or energy currently being used for motion. However, the free swing of a pendulum does not translate into a constant motion because on each swing of the pendulum, a small amount of energy is lost at the potential energy phase. Because of this, a mechanical oscillator is employed to ensure a small amount of energy is added with each swing.

An electronic oscillator
works in much the same way, except electric charges are used to keep the motion of the oscillator constant. This charge is transferred from a resistor (power source) to an inductor (which holds a charge). The inductor passes the charge on to a capacitor, which releases the charge at a measured, steady rate. This kind of configuration is called an RLC circuit. In an electronically controlled pendulum, the RLC circuit will perform the charge transfer at a steady pace, charging the final device and powering it down at a measurable, smooth flow.
Harmonic Oscillators



There are two main types of oscillator: harmonic and relaxation. Harmonic oscillators are so called because the type of signal they discharge is a simple sine wave. A simple sine wave, when graphed, represents a balanced parabola extended in a curved line up to the zenith and down to the apex with no sudden, jerky movements. This is because the charge is transferred gradually and then removed gradually as well. This harmonic oscillation is ideal for machines that require the kind of steady movement like a pendulum.
Harmonic Oscillator Variables



Electronic harmonic oscillators are commonly used in clocks and radio circuits because of their simple harmonic sine wave. The vibration of the output charge is designed to keep a clock on time and a radio properly tuned into a broadcast signal. In order to maintain a constant output charge, an harmonic oscillator requires a proper charge. The two main features of this charge are the amp and voltage capabilities. The amp represents the speed of the electric transfer, and the voltage represents the force of the charge. A charge that is too strong can knock an electronic device out of function, while too weak a charge will result in a "flat" signal that won't be enough to operate a device. The resistor source for an harmonic oscillator is important, to ensure that a constant, steady and reliable source of power is available to properly charge a device.

One type of harmonic oscillator is the quantum harmonic oscillator, which incorporates principles of quantum mechanics to power the charge. The charge is controlled by atomic molecules that can maintain a virtually endless sinusoidal wave of power. Higher end items like quantum watches are controlled by quantum harmonic oscillators because of their precision.

Harmonic oscillators can be coupled to produce more complex charge frequencies. This means multiple resonators connect together to transfer complex charge frequencies that operate at different frequencies from a monoharmonic oscillator. This can be necessary for electronic musical instruments that operate under different conditions when played. Additionally, "damped" harmonic oscillators result in the production of a "damped" charged, or one that gradually fails. This results in a simple sine wave that eventually resolves at a neutral level. This kind of charge is important for applications in which the oscillator is not needed to carry out a long action.