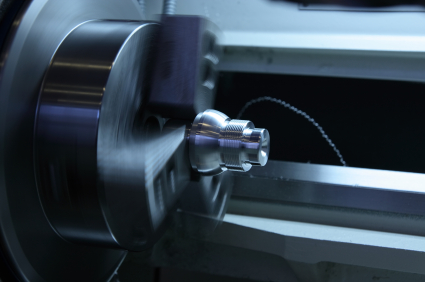 A homemade lathe can improve the quality of production for the hobbyist or small business owner, as well as reveal a personal touch to customers, but the expense and time investment are not to be overlooked. While purchasing a used lathe at auction, as low as $400 for simple electric bench-mounts or up to $7000 for CNC equipment,
can defray business expenses, building a DIY lathe can be a reward not quantifiable in financial figures.
Parts of a Lathe
A lathe is a piece of equipment used for shaping wood or other material. It consists of a base, which can be mounted on a bench or work table, and then, on either side, the headstock and the tailstock. The headstock has the spindle bearing which control the spindle, the part of the lathe which turns. The tailstock helps balance the spinning headstock, and features a stationary hollow horizontal access for a steel cylinder, which can be adjusted for accepting or stabilizing different sized tools and drill bits to cut the spinning material. Between the headstock and tailstock is a tool rest, which can be raised or lowered to accept the workpiece.
Where to Start
The first step in attempting to assemble the knowledge and materials for constructing a homemade lathe is research. There are a number of "lumber jocks" who have written guidebooks or posted helpful information online, as well as forums dedicated to the process. Some individuals have charted the production of their lathes with photo essays, and are enthusiastic about answering questions or giving advice, like Lionel Oliver of backyardmetalcasting.com. Some of these websites have online stores where you can buy these guides, or point you in the direction of other online stores selling these books, but for the most part finding information on building a homemade lathe in a major bookstore might be tricky. For example, the late David Gingery wrote many books on metalcasting and equipment building, and all of his books are available to order on his website,
http://www.lindsaybks.com/dgjp/
. Additionally, these webmasters and forum posters can provide advice about which books are worthwhile and which might be too difficult for a beginner. However, just getting started with any metalcasting book can be a good first step. As Mr. Oliver states on his FAQ, "Buy a good metalcasting book and read it. There is no 'shortcut' to learning what you need to know. It is easy to learn but you need to still do your homework."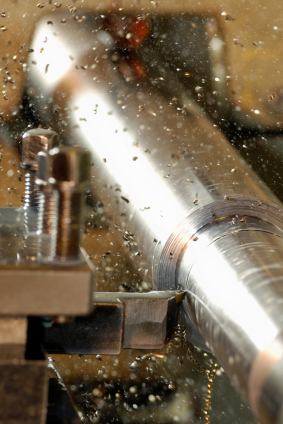 Procuring the Equipment
A homemade lathe, like any piece of equipment, can be assembled from spare parts, or made from scratch. A more experienced metalcaster might choose the completely self-made route, but this process is very work intensive and requires a lot more time. In that case, all the metal must be purchased from scrap yards or, the more expensive option, brand new, and then melted down for casting. Obtaining scrap metal can be a reasonable way to gather the material to melt down, and local scrap metal retailers can be located in the yellow pages or on internet databases. Additionally, reusing metal helps sustainability and cuts down on pollution. Tips about reusing metal are available in guidebooks and on websites. New metal can be more expensive, but is generally as easy to find as scrap, and can be easier to cast for the less experienced, because extra steps aren't necessary to specially meltdown the metal.
Lathe electronics can be complicated and are not recommended to the novice. Some DIY woodworkers have converted smaller motors for lathe use. For instance, a lawn mower motor has been commonly transplanted to lathe work with relative success. Different sources recommend different motor types and can suggest where to locate used or new motors.
Metal Casting for a Homemade Lathe
There are many metal parts for a lathe and working at such a small scale, even very skilled casters sometimes have to do multiple casts for a part. The base and carriage assembly sections don't require extreme accuracy, but the screw assembly and headstock need to be exact to ensure proper lathing precision. If the unit requires a solid tailstock for added balance to the workpiece, it needs to be cast to specification, as well; this can cut down on dangerous vibrations in so-called "between centers" work.
Assembly
The final step (or, more correctly, steps) of making the homemade lathe is assembly. Each part must be assembled to accurate measurements. A book or online guide can help with the specifics, but basically the assembly consists of carriage assembly, screw assembly, countershaft, and faceplate. These parts don't involve simple screwing, though, as welding is required—a true DIY job can do this all alone, but local welders can be hired for help with the countershaft assembly. This guide cannot hope to go into much detail about how these parts are assembled, but very readable yet technical guides are available. The equipment for these aspects is also available from online services.
Final Set Up
A homemade lathe requires a reasonable amount of workspace, either in a shop or a garage. Also, due to the nature of metal and wood spinning, it can produce a lot of swarf that can make a big mess. Being aware of the work environment can help when setting up a homemade lathe for hobby or small business work. A shop area is ideal (and is ideal for the construction of the lathe) but many have installed small DIY lathes in their own garages or home work areas.
Other Custom Manufacturing & Fabricating Guides