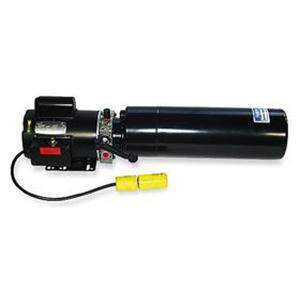 A hydraulic system employs enclosed fluid to transfer energy from one source to another, and subsequently create rotary motion, linear motion, or force. Hydraulic power units apply the pressure that drives motors, cylinders, and other complementary parts of a hydraulic system. Unlike standard pumps, these power units use multi-stage pressurization networks to move fluid, and they often incorporate temperature control devices. The mechanical characteristics and specifications of a hydraulic power unit dictate the type of projects for which it can be effective.
Some of the important factors that influence a hydraulic power unit's performance are pressure limits, power capacity, and reservoir volume. In addition, its physical characteristics, including size, power supply, and pumping strength are also significant considerations. To better understand the operating principles and design features in a hydraulic power unit, it may be helpful to look at the basic components of a standard model used in industrial hydraulic systems.
Design Components
A large, durable hydraulic power unit built for functioning under a range of environmental conditions will have numerous design characteristics distinct from a typical pumping system. Some of the standard design features include:
Accumulators: These are containers that can be attached to the hydraulic

actuators

. They collect water from the pumping mechanism and are intended to build and maintain fluid pressure to supplement the motor pumping system.

Motor Pumps: A hydraulic power unit can be equipped with a single motor pump, or multiple devices each with their own accumulator valve. With a multiple pump system, usually only one operates at a time.
Tanks: The tank is a storage unit designed with enough volume for the fluid in the pipes to drain into it. Likewise, actuator fluid may sometimes need draining into the tank.
Filters: A filter is typically installed along the top of the tank. It is a self-contained bypass unit, with its own motor, pump, and filtering apparatus. It can be used to fill or empty the tank by activating a multi-directional valve. Because they are self-contained, filters can often be replaced while the power unit is functioning.
Coolers and Heaters: As part of the temperature regulation process, an air cooler can be installed near or behind the filter unit to prevent temperatures from rising above operational parameters. Likewise, a heating system, such as an oil-based heater, can be used to elevate temperatures when necessary.
Power Unit Controllers: The hydraulic controller unit is the operator interface containing power switches, displays, and monitoring features. It is necessary for installing and integrating a power unit into a hydraulic systems, and can usually be found wired into the power unit.
Operating Process
When a hydraulic power unit
begins functioning, the gear pump pulls hydraulic fluid out of the tank and moves it into an accumulator. This process continues until the pressure within the accumulator reaches a predetermined level, at which point a charging valve switches the pumping action to begin circulating fluid. This causes the pump to release fluid through a charging valve back into the tank at minimal pressure. A special one-way valve keeps fluid from flowing out of the accumulator, but if the pressure drops by a significant amount, the charging valve reactivates and the accumulator is refilled with fluid. Farther down the line, a reduced-pressure valve regulates the flow of oil moving to the actuators.
If the accumulator is equipped with a fast-stroking device, it can be connected to other accumulators to allow them to charge pressure as well. Often, an automatic thermostat or fan will be included to help alleviate rising temperatures. If the fluid in the system begins to overheat, a temperature switch can shut the motor-pump off, which can also help refill the tank if its fluid level is too low. If the hydraulic power unit has multiple motor pumps, a flow switch can have them alternate in case of reduced fluid supply. Pressure switches can be used to regulate accumulator pressure and a monitoring system can alert operators when pressure has dropped too low, elevating the risk of power unit failure.
Other Electrical & Power Generation Guides