The History of the Hinge
The history of the hinge stretches so far back into antiquity that archaeologists aren't sure of its exact origin. While many metal hinges remain from periods dating back 5500 years, there is also evidence from later cultures that wood and stone were used to produce them, it follows that some of these ancient Mesopotamian cultures may have been producing them prior to the Bronze Age. These ancient devices have been refined, cultivated, and introduced into many aspects of life.
Ancient Hinges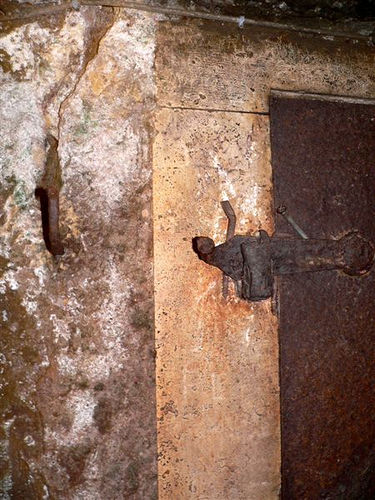 Hinges have been found in ancient societies in Africa, Asia, Europe and elsewhere. Most of these very early hinges are bronze door hinges. Akkadian and Hittite panache was so great, the massive palaces, sacred structures, and protective gates they built had heavy doors that operated with load-bearing metal hinges. Metal was expensive and labor-intensive to fabricate, so ancient emperors who wished to show how powerful they were exerted their wealth to purchase metal hinges. The common people of the era, usually had houses with no hinged doors, or even no doors at all.

As might be imagined the expense and lack of exactitude in metalworking precluded hinges from being used in everyday household items aside from doors. However, the rich and powerful could commission blacksmiths to form tiny hinges to use as clasps for jewelry and other items. As knowledge of metallurgy spread and cultures worldwide discovered methods of creating alloys like brass and steel, the production of hinges also increased.
The Middle Ages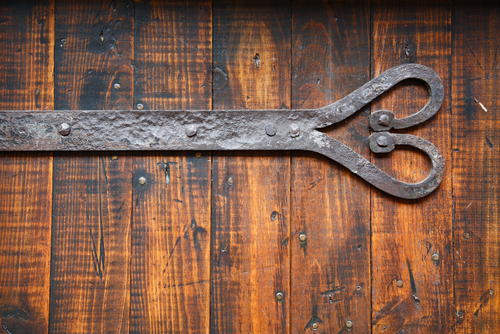 Metalwork advanced during the Medieval period, and more and more common people began using hinged-doors in their houses. Local blacksmiths could create wrought iron hinges, as well as other wrought iron tools, at an affordable rate. However, the upper-class still constructed large castles and palaces with big doors requiring the load-bearing power of large scale hinges. These are still visible in old castles preserved in Europe: massive oak doors with wrought iron hinges which stretch across the entire door face. Many of these hinges are both decorative and functional.

The classic drawbridge is an example. The drawbridge had two important features: it needed to be strong enough to support heavy loads when lowered and be sturdy enough to withstand breach attempts by invasion forces. This necessitated tough lumber and strong wrought iron hinges. And if the draw bridge didn't repel enemies? Many other hinged weapons were available to aid in military conflicts. For instance, a trebuchet, a type of siege engine, could propel missiles long distances at high velocities, crushing through stone walls or even depositing diseased corpses in enemy camps. The Persians developed a type of hinged trebuchet regarded as one of the most deadly and accurate. A hinged pulling or pushing mechanism also helped bowman cock their crossbow.

Aside from their military applications, numerous types of door hinges and butt hinges were used in chests, jewelry, doors, gates, locking parts, shipbuilding, and new technological marvels that continued through the Renaissance and Age of Enlightenment.
Victorian Era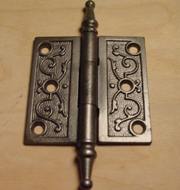 When steam power and industrialization began in earnest, the hinge found itself in the middle of a manufacturing explosion. With so many mechanical advances over such a short period of time, there were all sorts of machines requiring hinge parts. Complex hinges could be manufactured faster and at a fraction of the cost of their predecessors. The 19th century saw many hinge innovations, including hinges with ball bearings for smoother opening, and hinges with neat finishes. So many products with hinges entered daily life that to list them all would be ludicrous, and yet the expansion was far from over.


Present Day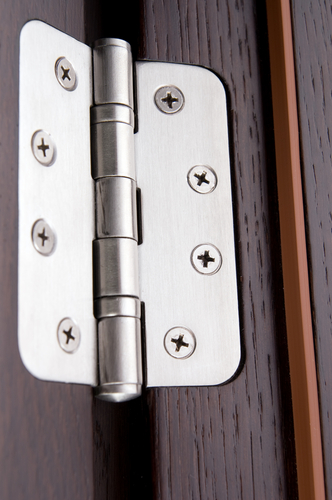 The 20th century to the present have seen yet further developments in hinge technology. Hinges
have been developed to allow doors move both directions, while other hinges have incorporated springs to keep phones and such snapping shut and popping open. New decorative and corrosion-resistant measures are in place to protect metal hinges from salty air or wear and tear while retaining visual luster. And because so much new technology developed in the 20th century, hinges found places everywhere—aerospace, military, computing, travel, and more. In fact, the desk on which the average reader's computer sits probably has more hinges than one might expect.

Special thanks to our friend Allen Joslyn at AntiqueDoorknobs.org for helping us in researching this article.