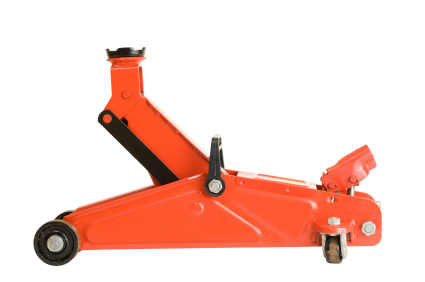 A jack is a device that uses force to lift heavy loads. The primary mechanism with which force is applied varies, depending on the specific type of jack, but is typically a screw thread or a hydraulic cylinder. Jacks can be categorized based on the type of force they employ: mechanical or hydraulic. Mechanical jacks, such as car jacks and house jacks, lift heavy equipment and are rated based on lifting capacity (for example, the number of tons they can lift). Hydraulic jacks tend to be stronger and can lift heavier loads higher, and include bottle jacks and floor jacks.


How Hydraulic Jacks Work


Hydraulic jacks
depend on force generated by pressure. Essentially, if two cylinders (a large and a small one) are connected and force is applied to one cylinder, equal pressure is generated in both cylinders. However, because one cylinder has a larger area, the force the larger cylinder produces will be higher, although the pressure in the two cylinders will remain the same. Hydraulic jacks depend on this basic principle to lift heavy loads: they use pump plungers to move oil through two cylinders. The plunger is first drawn back, which opens the suction valve ball within and draws oil into the pump chamber. As the plunger is pushed forward, the oil moves through an external discharge check valve into the cylinder chamber, and the suction valve closes, which results in pressure building within the cylinder.


Types of Hydraulic Valves


Two common types of hydraulic jacks include bottle jacks and floor jacks.


· Bottle Jacks


Bottle jacks
became popular in the early 1900s when the automobile industry began to take off. Also called hand jacks, bottle jacks provided an easy way for an individual to lift up a vehicle for roadside inspection or service. Their resemblance to milk bottles earned bottle jacks their name—today, they range in size and weight to offer a lifting capability ranging from one hundred to several tons. Bottle jacks feature a vertical shaft, which supports a platform (called a bearing pad) that directly bears the weight of the object as it is lifted.


Although they are most commonly used in the automobile industry (1.5 to 5 ton jacks are frequently used to lift cars), bottle jacks have other uses as well. In the medical industry they can be used in hydraulic stretchers and patient lifts. In industrial applications, they can be found as pipe benders used in plumbing, as cable slicers for electrical projects, and as material lifts within warehouses. Their ability to lift heavy loads plays a big role in enabling the repair of large agricultural machinery and in many construction operations. Bottle jacks can be secured within a frame, mounted on a beam, or simply used as they are for easier jack transportation.


· Floor Jacks


Unlike bottle jack shafts, the shaft in a floor jacks
is horizontal—the shaft pushes on a crank that connects to a lifting pad, which is then lifted horizontally. Floor jacks typically provide a greater range of vertical lift than bottle jacks, and are available in two sizes. The original jack is about four feet long, a foot wide, and weights around 200 pounds—they can lift 4-10 tons. A more compact model was later made, which is about three feet in length, and can lift 11/2 tons. Although "mini jacks" are also produced, they are not a recognized standard type of floor jack. Typically, one of the first two sizes should be used.
Other Materials Handling Guides