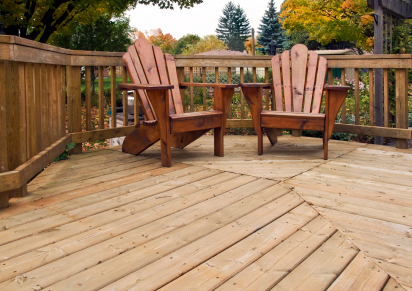 Decks, as with many kinds of outdoor structures, are subject to the wear and tear that accompanies seasonal changes and shifts in weather. Rain, snow, sun, and dirt are just a few of the elements decks are frequently exposed to. When a combination of these factors results in the degradation of the wood,
it may be time to consider deck restoration. By addressing the problem before it becomes more serious, potentially dangerous situations can be avoided, as can the financial strain of replacing the deck entirely.


Types of Wood Degradation


Watching for symptoms of wood degradation can be a good step toward preempting further damage and beginning the restoration process. Different kinds of wood will withstand the elements differently, but there are several common types of wood degradation many decks encounter.
As a result of bacteria and microorganisms penetrating the surface of the wood, wood can often exhibit signs of white or brown rot. Although fungus and bacteria will affect the structure of the wood differently—white rot typically results in a loss of strength synonymous with what the eye perceives, while brown rot can result in far more strength loss than is immediately visible—catching rot early can prevent further decay of the wood. If gone untreated, white rot can result in complete destruction of the wood, because the fungi that causes white rot attacks the fibers that binds the cellulose together, systematically breaking the wood apart. Brown rot, however, attacks the wood differently, working outward from the internal layers of the wood, destroying cellulose, and may therefore be harder to catch and treat.
Consistent exposure to the sun can bleach the pigment of the wood, giving the deck a dull, dry look.
When a deck is continually exposed to snow and rain, some of the subsequent moisture can be absorbed by the wood. As the moisture leaves the wood, either as a result of sun exposure or heat, the wood will contract and shrink. Wood contraction can lead to warping, misaligned deck planks, and popped nails.
Along with constant exposure to the elements, decks encounter wear and tear as a result of dirt and foot traffic, which can further rub the dirt against the surface of the wood, altering a deck's overall appearance.
In cases where one or several of these symptoms is present in a deck, it may be worthwhile to seek the consultation of a professional. If rot persists untreated, the deck may require partial replacement of rotted planks, or may need to be replaced entirely. In cases where bleaching, drying and contraction, and dirt and food traffic have begun to show, deck restoration may be an option.


There are several different methods for restoring a deck, but there are a few general steps that are often taken to restore a typical wooden deck. Before beginning, protective gear, such as goggles and gloves, should be worn.


Identifying any warped or twisted planks can help in locating partially dislodged nails, which are then removed and replaced with longer nails or screws. If the planks have twisted as a result of contraction, there are several tools which can be used to twist the planks back into alignment. Avoiding replacing only one or two planks helps ensure a uniform look when the restoration is complete.


Once necessary nails have been replaced and warped planks are realigned and secured, any other loose or dislodged nails are replaced to ensure all planks are as secure as possible. When this process is complete, a deck cleaning solution is sprayed on the surface of the deck and worked in using a sponge mop, to both clean and brighten the wood.


About fifteen minutes after the deck has been coated and scrubbed, it should be rinsed. A pressure washer can be attached to the end of a garden hose to increase water pressure; using increased pressure helps to further scrub the deck, activate the chemicals in the cleaner, remove dirt, and rinse off the solution, but care should be taken not to set the pressure so high as to damage the wood.


After the deck is dry, a sealant is applied that both protects the wood and restores its color. Additionally, it slows the wood's ability to absorb water, a common cause of wood degradation. Sealant application can be conducted using a garden sprayer to help ensure even treatment. Often, sealer appears milky upon application, but dries clear. Sealant takes between one and three days to set, during which time furniture or heavy objects should not be placed on the surface. (Once the deck has set, furniture can be replaced.) To maintain the restored deck, sealant should be reapplied every one to two years.
Other Plant & Facility Equipment Guides