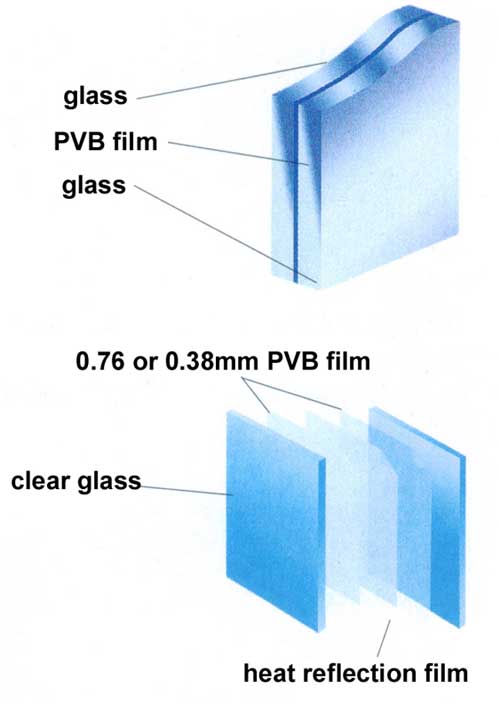 As a substitute for standard glass (of the sort found in house windows), safety glass is intended to provide greater security and reduce the chance of injury from breakage. It is most often found in circumstances with a higher potential for physical harm or in situations requiring heightened protection. Since the initial experiments in the early twentieth century with the celluloid polymers and adhesives that led to its development, safety glass has become widespread in commercial, industrial, and household applications.
Modern-day safety glass
generally comes in one of three forms: tempered, laminated, or armed glass. Tempered, or "toughened,"
glass
is a heat-treated material designed for high strength and non-hazardous shattering. It is produced by heating glass to a temperature between 1100 and 1300 degrees Fahrenheit, which is near its melting point. Afterward, it is quickly cooled using powerful drafts of cold air. As it cools, stress is exerted onto the glass structure and it begins to harden under this stress. First the surface hardens, preserving the overall dimensions, then the center cools and compresses the surface and edges of the glass workpiece.
The result is a glass much stronger than normal, capable of withstanding nearly four times the amount of force needed to break untreated glass. In addition, when tempered glass does break it shatters into small pebble-like granules, rather than sharp shards. However, tempered glass may be somewhat difficult to manufacture as it can only be cut or shaped before undergoing
heat strengthening
. It also has a tendency to shatter entirely from sufficient impact, rather than leaving some fragments intact.
Laminated Glass
Tempered Glass: The side and rear windows in most consumer automobiles are customarily made of tempered glass due to its high impact resistance and safe shattering qualities. For similar reasons, tempered glass is also often found in commercial building doors, bathtub and shower enclosures, sliding doors, mass transit windows, and large home appliances.
Laminated Glass: Laminated glass provides improved safety features in cases involving potential human impact, and as a result it is most often found in automobile windshields. It can also be used for added security in windows or balconies, and is often applied as shielding for bank teller booths, aircraft windshields, and tank viewing windows.
Armed Glass: Armed glass is most commonly used in the roofing of industrial building or other outdoor structures. This type of glass can provide additional light from above, but its metal grill lowers overall visibility.
Aside from these common applications, various types of safety glass can also be found in less standard settings. Multi-layered safety glass has been used for projects as wide-ranging as bullet-proof shielding or small-scale explosive blast protection.
For additional information, see Charles E. Carraher's
Introduction to Polymer Chemistry
or
Ideafinder.com
for a historical overview of safety glass.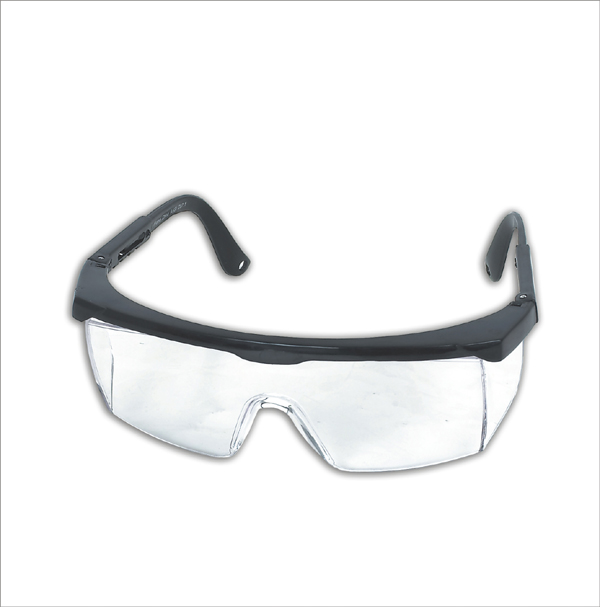 In one of its earliest uses, safety glass provided eye protection in World War I-era
gas masks
. Since then, its range of applications has expanded into a host of other industries that have benefited from the advantages first recognized by the military. Some of the common applications for each type of safety include:
Less common than its tempered or laminated counterparts, armed glass is capable of providing shatter-resistance, but offers fewer post-breakage advantages. Armed glass is designed around a wire mesh frame and has a metal grill joining the various panes together. This metal support lends it greater strength, but once it is broken, armed glass shatters much like standard glass. The metal grill does, however, keep some sections of the glass from breaking away upon impact, but also inadvertently reduces visibility.
Safety Glass Applications
Like tempered glass, laminated glass is a highly durable and strengthened material. It consists of multiple layers of standard glass sandwiched around an adhesive interlayer that provides impact-resistance and structural stability. This type of glass is produced by applying polyvinyl butyral (PVB) as a bonding agent between two or more layers of glass. Mechanical rollers apply pressure to the workpiece to eliminate any air bubbles that may have formed between the layers, and then the glass is lightly heated to around 150 degrees Fahrenheit. The resulting product can vary in strength and thickness. For example, laminated glass in automobiles is usually about 6.5 millimeters thick, while the kind used in airplanes can be three times as thick.
O
ne of the main advantages of laminated glass centers on its bonding agent. The
PVB
interlayer serves to hold the glass together on impact, causing it to crack but not shatter. In addition, this plastic film allows the glass to bend somewhat, making it more flexible and harder to pierce than other varieties. Its secondary benefits include improved sound blocking ability and a high degree of ultraviolet shielding. It can be effectively cut or drilled after heat-treating, but has a lower overall strength rating than tempered glass.
Armed Glass
Although it denotes several different types of specially-treated and manufactured glasses, safety glass is a hazard-prevention product regardless of its iteration. One of the most common and visible applications of safety glass is in the automotive industry, where most car windshields, rear windows, and passenger windows made of safety glass. Other significant but less well-known applications include military, medical, household, and high-tech products.
Other Plastics & Rubber Guides