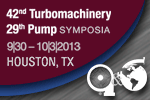 The 42nd Turbomachinery/29th Pump Symposia will commence in Houston next Monday, Sept. 30, bringing together engineers in the petrochemical, process, chemical, and utility industries along with global manufacturers of rotating equipment and fluid-handling machinery. The annual trade event will feature a full technical learning program and supplier exhibition on the floor of the George R. Brown Convention Center.
More than 300 companies from the oil and gas, petrochem, power, pumping, and turbomachinery industries will have booths in the convention center exhibit hall.
This year's technical program is a mix of what the show's organizer dubs as short courses, lectures, discussion groups, tutorials, and case studies divided between turbomachinery and pumping equipment. Attendees earn 0.6 continuing education units (CEUs) for the short courses, and Symposia attendees earn 0.45 CEUs for attending Tuesday's or Wednesday's program, and 0.3 CEUs for Thursday. Full symposium participation nets 1.2 CEUs.
Organizers have scheduled the program not to overlap with the exhibit hall hours.
A look at the program indicates sessions run the gamut from basic, as indicated by "Pumps 101″ on Sept. 30, to advanced, e.g., "Effect of Component Interference Fit and Fluid Density on the Lateral and Torsional Natural Frequencies of Turbomachinery Rotor Systems."  The program's range of topics include centrifugal, subsea, multi-phase, and vertically suspended pumps; mechanical seals; pipe; leak detection; vibration monitoring, and couplings and alignment.
The Turbomachinery/Pump Symposia is organized by the Texas A&M Engineering Experiment Station's Turbomachinery Laboratory, which is part of Texas A&M Univ. According to Turbomachinery Laboratory, the event is to promote professional development, technology transfer, peer networking, and information exchange among industry professionals.
For more, visit http://pumpturbo.tamu.edu.