Apply Qualifications
| | |
| --- | --- |
| | Cities |
| | |
| --- | --- |
| | Ownership / Diversity |
| | |
| --- | --- |
| | Locations Served |

Related Categories
Provide Feedback

Adhesive Tapes Suppliers serving Connecticut
Displaying 1 to 1 out of 1 result

Selected Supplier Qualifications
Hispanic American ownership is a company level diversity certification. Generally, this certification is non-industry specific but requires that the company is at least 51% owned, operated and controlled by one or more Hispanic Americans.
Penmar Industries, Inc. - Stratford, CT
Distributor, Manufacturer, Custom Manufacturer, Service Company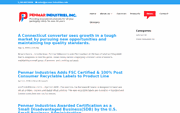 See All

Minority owned ISO 9001:2000 certified distributor of tapes including adhesive tapes & industrial tapes. Types include carton sealing tapes, flat back tapes, label protection tapes, pouch tapes, reinforced paper gum tapes, paper gum tapes, filament tapes, duct/gaffers tapes, masking tapes, vinyl safety tapes, double sided masking tapes, VHB tapes, double sided film tapes, electrical tapes, adhesive transfer tapes, barricade tapes, aluminum foil tapes, PTFE tapes, stretchable tapes, transparent tapes & cellophane tapes. Also available tape dispensers.
penmarindustries.rtrk.com/?scid=2014506&rl_...


Save this Supplier