Apply Qualifications
| | |
| --- | --- |
| | Other Certification / Registration |

Related Categories
Provide Feedback

Brass Billets Suppliers
Displaying 1 to 1 out of 1 result

Selected Supplier Qualifications
This partnership is for organizations involved in the global supply chain including United States importers, customs brokers, terminal operators, carriers and foreign manufacturers. Companies wishing to be C-TPAT participants must complete an application and conduct a self assessment of their supply chain security procedures against the C-TPAT criteria or guidelines jointly developed by CBP and the trade community.
National Bronze & Metals, Inc. - Houston, TX


Distributor, Manufacturer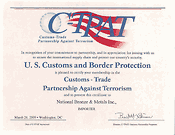 Manufacturer & distributor of brass billets. Common fabrication processes include blanking, coining, drawing, etching, forming & bending, heading & upsetting, hot forging & pressing, piercing and punching, roll threading & knurling, shearing, spinning, squeezing & swaging, & stamping. Applications include busbars, electrical conductors, coaxial cables, wave guides, transistor components, microwave tubes, billet mold tubes, & extrusion cans for powder metallurgy.
www.nbmmetals.com/products/brass-alloys.htm...


Save this Supplier