Apply Qualifications
| | |
| --- | --- |
| | Quality Certifications |

Related Categories
Provide Feedback

Information Management Services Suppliers
Displaying 1 to 1 out of 1 result

Selected Supplier Qualifications
ISO 14001:2004 is a company level certification based on a standard developed by the International Organization for Standardization (ISO) titled "Environmental Management Systems-Requirements with Guidance for Use". ISO 14001:2004 certification is intended for any organization whose processes impact the environment.
Serigraph Inc. - West Bend, WI
Manufacturer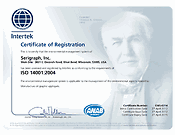 See All

Six Sigma, ISO/TS 16949:2009, ISO 14001:2004 & ISO 9001 certified. Lean manufacturing. Information management services including electronic data interchange (EDI), barcode or barcoding & order processing services. Capabilities include chemical etching, color matching, cutting, doming, embossing, debossing, forming, laminating, molding, texturing, serializing, UV hardcoating, image creation, designing, engineering, research & development, prototyping, testing, assembly, hot stamping, warehousing, electronic fulfillment & inventory management & printing. Various markets served also includes automotive, appliance, computers, consumer products, electronics, medical, telecommunications, office supply, packaged foods & personal care products. JIT delivery. Green Tier certified.

Save this Supplier