Apply Qualifications
| | |
| --- | --- |
| | Quality Certifications |

Related Categories
Provide Feedback

Pipe Guides Suppliers
Displaying 1 to 1 out of 1 result

Selected Supplier Qualifications
ISO/TS 29001 is a company level certification based on a technical specification published by the International Organization for Standardization (ISO) titled "Petroleum, petrochemical and natural gas industries — Sector-specific quality management systems — Requirements for product and service supply organizations". This certification is for organizations involved in exploration, production, pipelines and transport, refining of petroleum and natural gas and those that provide technical and support services to these industries.
Anvil International, Inc. - Portsmouth, NH
Distributor, Manufacturer, Custom Manufacturer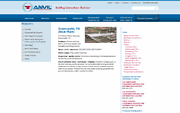 ISO 9001:2000 certified manufacturer & distributor of pipe guides & slides. Types include pipe alignment guides, structural tee slide assembly, structural H slide assembly, medium pipe clamps & special clamps. Markets served include nuclear power, fossil power, co-generation, petrochemical, refinery, pulp & paper, marine, mechanical HVAC & plumbing, fire protection, electrical, water & waste water treatment, seismic, industrial & commercial. ULŪ listed & FM approved. Meet ASTM & ANSI standards. Made in the USA.

Save this Supplier