Apply Qualifications
| | |
| --- | --- |
| | Other Certification / Registration |

Related Categories
Provide Feedback

Web Based Data Monitoring Software Suppliers
Displaying 1 to 1 out of 1 result

Selected Supplier Qualifications
RoHS is a product level compliance based on the European Unionís Directive 2002/95/EC, the Restriction of the Use of certain Hazardous Substances in Electrical and Electronic Equipment (RoHS). This directive applies to manufacturers, authorized representatives, importers and distributors of products including large household appliances (refrigerators, etc.), small household appliances (vacuum cleaners, etc.), computing & communications equipment, consumer electronics, lighting, power tools, toys and sports equipment (videogames, electric trains, etc.) and automatic dispensers (vending machines, ATM machines, etc.).
Red Lion Controls - York, PA

Manufacturer, Custom Manufacturer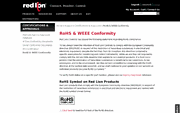 Manufacturer of configuration software including web based data monitoring software. Human machine interface (HMI) programming software, modular controller programming software, temperature controller software, panel meter software, OPC DA server software and DOS platform software are available.
Brand Names: Crimson, OPCWorx, Red Lion
www.redlion.net/Support/Downloads/SoftwareL...


Save this Supplier