Company description by ThomasNet.com
ISO 9001:2008 and ISO 14001:2004 certified. Manufacturer of standard and customized sorbents including coated solid forms, compressed, bagged, canisters, films, and polymers. Various products include sorbent More... retainers, desiccant caps and vials, hot melt desiccants, tape desiccants, desiccating containers, sorbent canisters, desiccant papers, liquid absorbers, laminated liquid absorbing papers, oxygen absorbing cards, self-adhesive oxygen absorbers, oxygen absorbing and moisture regulating packets and strips, humidity indicator cards. Indicating refillable desiccators, lab desiccator refills, medical liquid solidifiers, specialty oxygen absorbers, packet dispensers and thermoformed desiccant bags are also available. Applications include healthcare, food and beverage, electronics, transportation, storage and government industries. FDA approved materials. 21 CFR parts 210-21, cGMP compliant. Many products are supported by a Type III Drug Master File, DMF. On-time delivery. Less


Company Information
Company description by Multisorb Technologies, Inc.
Multisorb Technologies is The World Leader in Active Packaging Technologies™. For more than 50 years, we have been providing innovative sorbent solutions designed to provide superior protection against moisture, odor, oxygen, and other volatiles. Our extensive product line serves four unique market sectors: Healthcare; Food and Beverage; Electronics; and Logistics and Industrial. With facilities in Buffalo, NY; Mobile, AL; and Telford, UK, staffed by more than 500 employees, we are able to efficiently provide a wide range of products for a global market.
We provide consultation to understand your
More...
specific product and packaging, so we can design a customized sorbent to meet your specific needs. We offer a large line of desiccants, moisture regulators, oxygen absorbers, and volatile adsorbers in various formats, including packets, canisters, compressed forms, as well as built in solutions.

For seamless dispensing into the product packaging, our systems based approach combines the proven benefits of our sorbent solutions with the reliability of our APA-series of dispensers. Our dispensers are designed specifically to dispense our sorbents, so dependability is ensured.

Active packaging's ability to reduce product and packaging waste is the foundation of our corporate sustainability initiate. We are dedicated to sustainability in all aspects of our operations. For more information visit www.multisorb.com.

We are committed to providing the highest quality products and services. All of our sites are certified to ISO 9001, and additionally, our Telford, UK site is certified to ISO 14001. As part of the Quality System, our processes comply with applicable current good manufacturing practices (cGMPs) for products supplied to the Food & Beverage and Healthcare markets. Less

Recent News & Press Releases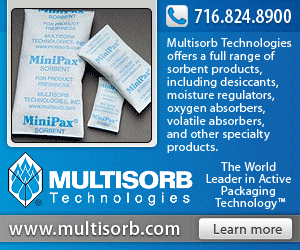 URL:
www.multisorb.com
Employees:
500-999
Activities:
Manufacturer, Custom Manufacturer
Year Founded:
1961
Certification:
Brand Names:
Cryosorb, CSF, DesiCap, Desiform, DesiMax, Dri-Can, DriCap, Drikette, DriMop, FlavorMax
All Brands...
Export Markets:
Western Europe, Africa, Middle East, Asia, Australia, Europe, Canada, Mexico
Follow
Company on:
This supplier is found in the following categories
See all