Company description by ThomasNet.com
ISO 9001:2008 & ISO 14001:2004 certified custom manufacturer of industrial spray products including automated spray systems, nozzles & spray guns. Types of nozzles include air, atomizing, descaling, More... flat spray, fire protection, mixing, pipe, plastic, liquid dispensing, quenching, high & low pressure, spray drying, tank cleaning, water blasting & waterjet nozzles. Educators, filters, strainers, valves, manifolds, showers, lances, quills & injectors are also available. Capabilities include engineering design, testing & spray analysis & research services. Applications include automotive, fire protection, food processing, gas conditioning, can manufacturing, pollution control, papermaking, die lubrication, steel making & electronics. Less


Company Information
Company description by Spraying Systems Co.
Spraying Systems Co. is one of the world's leading manufacturers of industrial spray products, offering more than 87,000 different spray nozzles and accessories. Our nozzles are readily available in thousands of sizes, hundreds of configurations and dozens of materials. And, with 12 manufacturing facilities throughout North America, South America, Europe and Asia, we can quickly deliver to customers anywhere in the world.
AutoJet Technologies is our spray control and automation division and offers turnkey systems. These engineered systems can reduce overspray, consumption, production/maintenance
More...
downtime and improve product quality by accurately monitoring and controlling your spray application.

Spray Analysis and Research Services operates the industry's most sophisticated spray research laboratories, conducts spray performance tests, proof-of-concept tests, quality control tests and designs prototypes. Customers rely on Spray Analysis and Research Services to help improve quality and efficiency in existing spray applications and develop solutions for new spray applications.

Our Spray Fabrication group designs and builds custom spray lances, spray manifolds and spray headers – which are often the best solution when nozzle spacing affects product quality. Custom mounting systems and adapters are also part of our offering to facilitate installation and minimize reconfiguration of existing space.

In addition, we provide engineering and application assistance to help customers optimize their spray applications. Our sales engineers are dedicated specialists in spray technology. Working from 85 sales offices around the world, a local representative will be available to assist you whenever you need help. Less
Product Information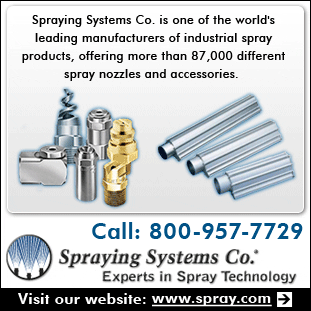 | | |
| --- | --- |
| URL: | www.spray.com |
| Activities: | Manufacturer, Service Company |
| Year Founded: | 1937 |
| Certification: | |
| Brand Names: | FullJet, GunJet, SpiralJet, SprayDry, WhirlJet, WindJet |
This supplier is found in the following categories
See all