Company description by ThomasNet.com
Design & manufacturer of drying, cooling, screening & related process equipment including autowires, air distribution systems, wedge wire decks, food equipment for potato chips pretzels, corn chips, More... cereals, coffee, tea, cocoa, herbs, cheese, curd, whey, butter, fruit, nuts, seeds & grains. Plastic equipment for nylon, polyethylene, polystyrene, polypropylene, polyvinyl chloride, polyesters, polyurethanes, friable, glass-filled & micropellets & other resins. Sludge handling equipment to dewater & dry to tight moisture specifications with particle integrity. Pharmaceutical processors including aseptic, hygienic system designs meet FDA regulations for cleanroom operations. Less


Company Information
Company description by The Witte Co., Inc.
About Witte Co., Inc., The from http://www.witte.com
The Witte Company designs and manufactures drying, cooling, screening and related process equipment at its headquarters in Washington, New Jersey. Family-owned and operated since its founding in 1938, Witte has earned a stellar reputation for engineering expertise, craftsmanship and personal service.
Developing innovations in machine design while formulating what has become its signature vertical air flow engineering, Witte has established a track record for operational dependability, earning the trust of Fortune 500 companies worldwide including
More...
Kraft, Nabisco, Merck, Roche and Morton. Witte not only guarantees its equipment, but also guarantees the equipment's performance. Less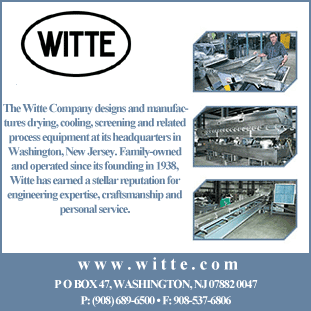 | | |
| --- | --- |
| URL: | www.witte.com |
| Sales: | $1 - 4.9 Mil |
| Employees: | 10-49 |
| Activities: | Manufacturer, Custom Manufacturer |
| Year Founded: | 1938 |
| Export Markets: | Western Europe, Africa, Middle East, Asia, Australia, Europe, Canada, Mexico |
This supplier is found in the following categories
See all