Company description by ThomasNet.com
Manufacturer of standard & custom size reduction processors & machinery including grinders, crushers, mills, mixers, granulators, shredders, pipeline mixers, bag dump stations, screens & screening More... systems. Crushers include roll crushers, low friction crushers, twin shaft crushers, severe duty crushers, ultra-sanitary crushers & pipeline inline crushers. Mills include dual roll mills & sanitary multi-function mills. Shredders include document shredders, electronics shredders & solids shredders. Size reduction processors & machinery are used for processing hard or soft, dry or wet, friable or sticky material. Other products include conveyors, separators, packing rams, compactors, feeders, washers, skimmers, filters, scales & controls. Testing services are available. Used & refurbished size reduction machinery is also available. Industries served include chemical processing, pharmaceuticals, foodstuffs, minerals, solid waste, pulp & paper, municipal, petrochemical, construction & wastewater treatment. Less


Company Information
Company description by DELUMPER (R) Div., Franklin Miller Inc.
Franklin Miller Inc. has been a leader in size reduction technology for over 90 years. Their broad line of processors includes units for chemical processing, pharmaceuticals, foodstuffs, minerals, wastewater treatment and many other industrial applications. A combination of experience in both dry solids processing and liquid or pressure seal systems has made them experts in solving many difficult process problems.
Franklin Miller processors, known for their rugged construction and superior capabilities, are built to exacting standards and subjected to rigorous inspection and testing processes.
More...
A test lab is available for testing of customer materials. The company specializes in matching proven solutions to specific process problems- from stock and customized machinery to fully integrated systems. Less
Product Information

Capabilities / Services

Recent News & Press Releases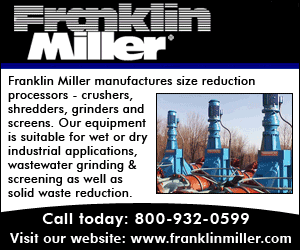 | | |
| --- | --- |
| URL: | franklinmiller.rtrk.... |
| Activities: | Distributor, Manufacturer, Custom Manufacturer |
| Brand Names: | Definer, Delumper, Destrux, Dimminutor, Screenmaster, Spiralift, Super Shredder, TaskMaster, Vulcanator |
This supplier is found in the following categories
See all