Custom manufacturer & fabrication company specializng in wire bending, wire forming, wire straightening & cutting, welding, powder coating, plastic injection molding, metal stamping, assembly, More... packaging, warehousing, shipping, electronic data interchange (EDI), bar-coding & burn off oven stripping. Also manufacturer and fulfillment of custom wire point-of-purchase (POP) displays for retail, wholesale, restaurants/food services, educationial facilites, convenience stores & fixture brokers and custom designers. Less


Company Information
Welcome to Chief Manufacturing.With more than 60 years of manufacturing knowledge and experience, we are a leading producer of high quality American made products.
Our capabilities are:
Wire bending
Wire forming
Welding
Powder coating
Plastic injection molding
Metal stamping
Assembly
Packaging
Warehousing
Shipping via all carriers at discounted rates
Drop shipping directly to customers
Electronic Data Interchange (EDI)
Burn off oven stripping
We are very flexible and accept jobs of all sizes. If you are in search of a reputable company to assist you in your manufacturing needs, please fill out
More...
the form below or contact us, and we would be happy to further discuss your needs. Less
Capabilities / Services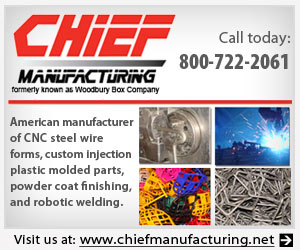 | | |
| --- | --- |
| URL: | www.chiefmanufacturi... |
| Activities: | Manufacturer, Custom Manufacturer, Service Company |
| Year Founded: | 1946 |
| Ownership: | |
This supplier is found in the following categories
See all