Company description by ThomasNet.com
ISO 9000 certified worldwide manufacturer of industrial products. Types of products include coatings, emulsions, dispersions & powders. Types of emulsions include anionic microcrystalline wax emulsions, nonionic carnauba wax emulsions, anionic carnauba wax emulsions & nonionic paraffin wax emulsions. Coatings such as water resistant paper coatings, high performance water & grease resistant white coatings, repulpable water resistant paper coatings, water & grease resistant gluable coatings, waxable white coatings, corrosion inhibitor coatings, water resistant gluable coatings & water & oil resistant gluable coatings are available. Capabilities include high temperature emulsification, media milling, homogenization & blending. Services include customer-specific product development, regulatory support, technical solutions & contract manufacturing Serves paper & corrugated, paint & coatings, graphic arts, fibers & composites, flexible packaging, floor care, adhesives & sealants, building materials & construction, ceramics, cordage & twine, die lubes & mold releases, furniture polish, glass, synthetic & natural rubber, textiles/leather/nonwovens, fruit & vegetable coatings & urethane foam industries.


Recent News & Press Releases
Michelman Supports Asia Pacific Growth with Management Hire
August 28, 2014 — CINCINNATI, OHá – To support its continued growth and expansion in the Asia Pacific region,...
Michelman to Feature Surface Additive Solutions for Wood, Decorative and Construction Coatings at Asia Pacific Coatings Show 2014
August 26, 2014 — CINCINNATI, OHá– Michelman will be exhibiting along with their distributor PT. Colorindo...
Michelman Taps New CFO to Strengthen Global Presence
August 13, 2014 — CINCINNATI, OHá – Michelman has strengthened its expanding global presence with the hiring...
Michelman's New HydraBan« 430 Coating for Corrugated Withstands the Elements; Helps Maintain Product Integrity
July 29, 2014 — CINCINNATI, OHá– Michelman will introduce HydraBan 430, a highly water resistant coating for...
Michelman Strengthens Latin American Presence with Addition of Two New Agents
July 17, 2014 — CINCINNATI, OHá – To better support the paper and corrugated coatings market in Latin...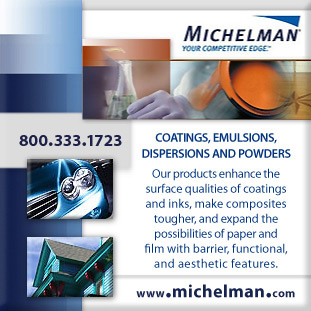 URL:
www.michelman.com/
Activities:
Manufacturer, Custom Manufacturer, Service Company
Certification:
Brand Names:
ACqua, Clean Grip, CleanGrip, Clear Grip, Coating X300, Coating X300 AF, ColorCoat, DigiGuard, DigiPrime, FGlass
All Brands...
This supplier is found in the following categories
See all