Company description by ThomasNet.com
Metal finishing services. Black oxide coating, zinc plating, bright nickel plating, electroless nickel plating, copper plating, passivation, hydrogen embrittlement relieving, waxing for anti-galling & More... dry film lube coating services are available. Parts cleaning & degreasing services are also available. Distributor of metal restoration products. Products include rust inhibiting coatings, preparation products, tank sealer kits, restoration kits, top coatings, high temperature paints & engine paints, thinners, self-etching primers & epoxy putty. Products such as paint brushes, reinforcing mesh, spray gun filters, disposable gloves, spouts & spray guns are available. Markets served include automotive, electric power, computer, packaging machines, fasteners, tool & die manufacturing & medical. Less


Company Information
Company description by Seminole Metal Finishing, Inc.
About Seminole Metal Finishing, Inc. from http://www.smfi.net
We specialize in short run production and small lot jobs. But that does not mean we shy away from the bigger jobs. Over the years we have Electroless nickel plated gantry frames for the Kennedy space center as well as Electroless nickel plated window rings for a deep sea diving submarine as well as many other specialty plating jobs. We do work for the automotive industry, the electrical power industry, packaging machines, computer and medical industry, nut, bolt and screw industry and many more. Some of our customers include FMC, ABB,
More...
Seimens, Westinghouse, Smurfit Stone and The Fastenal Corporation. All these customers and many small local businesses comprise our current customer base of satisfied customers. We have customers in the entire southeast United States but we have the capability to ship anywhere! We continually strive to make sure each and every customer receives the individual attention that will leave them feeling like they have their own in-house plating shop. Less
Product Information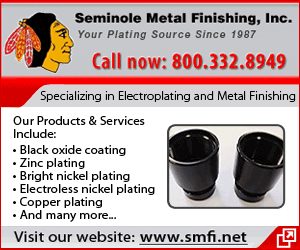 URL:
www.smfi.net
Sales:
$1 - 4.9 Mil
Employees:
10-49
Activities:
Distributor, Custom Manufacturer, Service Company
Year Founded:
1987
Certification:
Brand Names:
Astro, Blacktop, Fusion, Hi-Temp, KBS, Numetal
Follow
Company on:
This supplier is found in the following categories
See all