Company description by ThomasNet.com
ISO 9001:2008 certified manufacturer of standard and metric screws, knobs, bolts, nuts, washers, grommets, rivets, plugs, anchors, clamps, spacers, strain reliefs, panel fasteners, wire handling hardware, More... circuit board hardware, hose clamp installation tools, wiring accessories, fastener assortment kits, cable ties, standoffs, thumb screws, hole plugs, bushings, insulators, ratchet fasteners and threaded rods. Made of non-metallic materials including nylon, acetal, polycarbonate, polyethylene and plastic. Capabilities include tooling fabrication, rapid prototyping and injection molding. Less


Company Information
Company description by Micro Plastics, Inc.
In the early 60's, while working as a sales engineer for General Electric, Roy Hill recognized a market need for small, injection molded plastic parts. In the suburbs of Chicago, he started micro plastic, inc. out of his garage, working nights and weekends to build the foundation of his dreams. His formula for success was competitive pricing and reliable quality. It wasn't long before he could move the family car back into the garage and take the operation into a 5,000 square foot molding facility and tooling shop. During the mid 70's, Roy, along with his wife Marilyn, recognized that operating
More...
the business in an urban area was slowing the pace of growth they desired. The allure of The Ozarks and Bull Shoals Lake convinced him to make a bold decision: to move the entire operation south. Micro plastics' new home: Flippin, Arkansas. Population: 1,000. By the mid 80's, the company had grown to 50,000 square feet, and over 200 emplooyees. Its advantage of having its own in house tooling facility along with a diverse product line consisting of standard and custom built parts took the company to 100,000 square feet and 300 employees at the close of the decade. The recession of the early nineties took its toll on many companies. Roy's practice of diversity kept micro plastics afloat. With the tech boom came additional opportunities for them and they grabbed every one of them. More expansion and positions were added. With automation and robotics created in the new R&D department, micro was operating at an extreme level of efficiency by the turn of the millenium, which was necessary to remain competitive in an ever-demanding market. Today, Roy's son, Tom Hill, is guiding the company into the future. Tom's knowledge of technology, as well as working for the company in all departments since the age of 16, has helped propel the company into global markets, including the UK and Europe, Mexico, Australia, China and Russia. With ISO certification displaying a desire to serve the international business market, micro plastics has become what Roy had envisioned in the 60's: the largest manufacturer of threaded nylon fasteners in the world. Less
Product Information

Recent News & Press Releases
Sign Fasteners
May 23, 2014 — The Micro Plastics sign fastener is designed for rapid assembly and disassembly of a sign or other...
Colored Split Loom
May 23, 2014 — Micro Plastics' has added COLOR to their Polyethylene and Nylon lines of wire routing split loom....
New Product Catalog
May 23, 2014 — Today we unveil our latest product catalog, containing thousands of fastening solutions for...
Phillips Pan Machine Screws
May 22, 2014 — We are pleased to announce our newly completed line of phillips pan machine screws. Thread sizes...
Special Standard Round Spacers
May 22, 2014 — We are pleased to announce our new product line of "Special Standard Round Spacers".  This line of...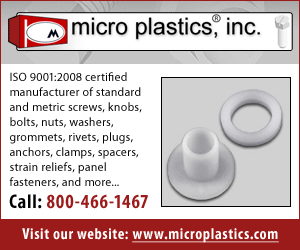 URL:
secure.microplastics...
Activities:
Manufacturer, Custom Manufacturer
Certification:
Export Markets:
Western Europe, Africa, Middle East, Asia, Australia, Europe, Canada, Mexico
Follow
Company on:
This supplier is found in the following categories
See all