Company description by ThomasNet.com
Manufactures durable, high quality removable insulation blankets, permanent composite hard coat insulation, and other high temperature thermal insulation products for engines, exhaust systems, equipment, More... and industrial applications. Insulation products can be designed to handle high temperature applications upwards of 2000 degrees F. Insulation products protect from burns, reduce heat levels, lowers fire hazards, optimize SCR and catalyst performance, shields cabling and prevents false fire sprinkler set-offs. Industries served include: power generation, petrochemical, oil and gas, marine, off-highway, on-highway, mining, forestry, locomotive and military. Also supply chemical spray shields to chemical process industries. ISO 9001:2008 certified company, and removable insulation blankets are UL certified for use in the Genset industry. Insulation products are installed on engine and exhaust components such as manifolds, turbo chargers, exhaust piping, silencers and purifiers. In industrial settings, blankets are used to cover valves, strainers, expansion bellows/flexes, flanges, elbows, manways, instrument and controls, heat exchangers, tanks, heat containment curtains, piping or custom designed industrial applications. Less


Company Information
Company description by Firwin Corp.
About Firwin Corp. from http://www.firwin.com
Firwin Corp manufactures Durable, High Quality Removable Insulation Blankets, Permanent Composite Hard Coat™ Insulation, and other High Temperature Thermal Insulation Products for Engines, Exhaust Systems, Equipment, & Industrial Applications. Industries we serve include: power generation, petrochemical, oil & gas, marine, off-highway, on-highway, mining, forestry, locomotive and military industries. We also supply chemical sprayshields to chemical process industries in North America and overseas. Since the company's formation in 1982, Firwin has grown
More...
over the years to its position today as one of the leading North American manufacturers of removable insulation blankets and permanent composite Hard Coat™ insulation solutions.Our success is founded on excellent customer service, innovation, creativity and problem solving. We pride ourselves on our customer relations and service. Less
Product Information

Capabilities / Services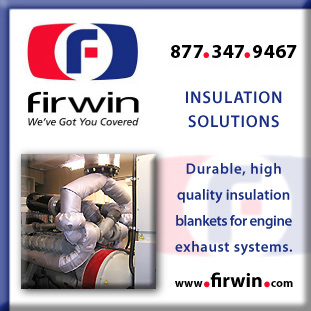 URL:
www.firwin.com
Sales:
$5 - 9.9 Mil
Employees:
10-49
Activities:
Manufacturer, Custom Manufacturer
Year Founded:
1982
Certification:
Export Markets:
Latin America/Caribbean, Western Europe, Africa, Middle East, Asia, Australia, Europe, Canada, Mexico
Officials:
Brett Herman, Vice President, Sales & Customer Service
Follow
Company on:
This supplier is found in the following categories
See all