Company description by ThomasNet.com
Certified to ISO 9001 with design, TS 16949 and ISO 14001 Global manufacturer of custom engineered seals & gaskets. Full-service extruder and molder of organic, silicone, full range of thermoplastics More... and other specialty polymers including; EPDM, neoprene, nitrile, silicone, polyisoprene, polyurethane, fluorolastomer, TPV, TPU, PVC, nylon, polyolefin, polypropylene/polyethylene, EPP/EPE. Products for a wide variety of markets including; automotive, heavy equipment, window and door (commerical and residential), HVACR, renewable energy, lighting, refrigeration, ventilation systems, oil industry, medical and many more. Value added capabilities for extruded and molded parts include the following processes; laminate, dual & triple durometer, rubber to metal bonding, cut, die-cut, drill, notch, splice, weld, molded corners, custom printing, color match, flocking, slip-coating, vibration dampening and many more. Application engineers work directly with customers. FEA analysis and in-house tool design, engineers provide design concept to completion. Less


Company Information
Company description by Lauren Manufacturing Co.
About Lauren Manufacturing:
Lauren Manufacturing Company is a global manufacturer of custom engineered seals & gaskets. Lauren is a full-service extruder and molder of organic, silicone, full range of thermoplastics and other specialty polymers.
Lauren Manufacturing has provided innovative solutions and high-quality products for a wide variety of markets including; automotive, agriculture, window and door, HVAC, renewable energy, lighting and many more.
What sets Lauren apart from other seal manufacturers?
• Over 45 years in business
• Vertical Integration (LMI Custom Mixing and Global Partnerships)
More...
• IT Operations Support

• Customer Ordering Portal (Visibility of Orders)

• Custom Designs and Project Development

• In-house Tool and Die Design

• In-house Equipment Design; Automated Processes

• Diverse Portfolio of Materials and Process Capabilities

• Unprecedented Quality; State-Of-The-Art Measuring Equipment

• Flexibility and Available Capacity (Facility Size: 160,000 ft2)

Lauren is a custom extrusion company specializing in closed-cell sponge and dense polymer products. Lauren Manufacturing is not just another rubber company. We believe in the power of innovation, and are committed to the exploration of new materials and manufacturing techniques—to exceed the needs and expectations of our customers. Staying responsive to our customers' needs is our primary goal. The working partnerships we have with our customers have positioned Lauren Manufacturing as the leading single-source supplier of extruded and molded polymer products.

Lauren is certified to ISO 9001 with Design, TS 16949 and ISO 14001. Less

Product Information

Capabilities / Services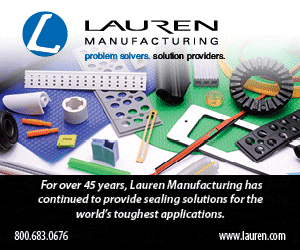 URL:
www.lauren.com/
Sales:
$50 - 99.9 Mil
Employees:
100-199
Activities:
Manufacturer, Custom Manufacturer
Year Founded:
1965
Certification:
Follow
Company on:
This supplier is found in the following categories
See all