Manufacturer & distributor of ventilation equipment for industrial, commercial, residential & OEM customers. OEM products include adjustable pitch airfoil impellers with cast aluminum or GRP blades. More... Backward curved airfoil blower wheels, cabinet cooling fans, motorized impellers featuring backward curved, forward curved or axial wheels. Brushless DC fans, EC fans with onboard electronics, electronic cooling fans, 50 Hz motors, CE approved fans. Axial flow flange fans. Custom OEM fan designs & 3D models are also available. Industrial fans include upblast & hooded roof ventilators, direct drive & belted panel fans. Replacement axial impellers, truly reversible kiln fans, IRIS dampers for air control, air measurement & air balancing, corrosion resistant fans, fiberglass fans, composite fans, mixed flow fans, tubeaxial fans, inline centrifugal fans. Commercial & residential products include inline & exterior mount fans, duct booster fans, shutter, panel & guard mount exhaust fans, wall fans, bathroom fans, dryer booster fans & pressure blowers. Less


Company Information
CFM offers a broad range of ventilation products for use in many Industrial, OEM, Commercial and Residential applications. Continental Fan products include TMK motorized impellers, AXC in-line fans, and TCD blowers. ELTA axial adjustable pitch impellers offer the perfect solution for OEM applications or replacement blades! IRIS dampers establish new standards for air control and measurement - ideal for air balancing.
Nearly all our industrial, commercial, OEM and residential ventilation products can be customized for specific applications. Continental Fan's engineering department can design a
More...
CUSTOM FAN, incorporating products from a selection of motorized impellers, centrifugal blowers and axial fans.

From electronic equipment cooling to duct boosting to condenser fans, CFM products deliver outstanding performance and value.

Our goals are simple …….. to provide superior equipment, dependable service, competitive pricing, and a knowledgeable staff to satisfy our customers' needs. In short, we provide better AIRFLOW by DESIGN! Less
Product Information

Recent News & Press Releases
TNC BC Airfoil Cooling Fan
March 4, 2014 — Continental Fan's TNC Cooling Fan is the ideal solution for special cooling requirements such as...
ADP Direct Drive Panel Fans
January 27, 2014 — Continental Fan's all welded ADP Direct Drive Panel Fans provide superior performance, and require...
TEK Plug Fan
January 15, 2014 — Continental Fan's TEK Plug Fans feature TEK backward curved airfoil wheels, HVAC's...
CPB Cast Aluminum Blower
December 19, 2013 — CPB Cast Aluminum Blowers are superbly crafted and precision balanced air-moving devices that are...
ELTA Airfoil Impeller
December 4, 2013 — Designed using the latest computer aided technology; ELTA Axial Impellers incorporate an advanced...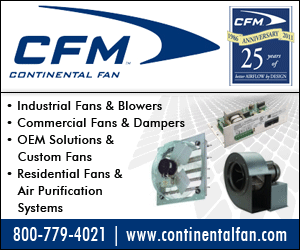 URL:
www.continentalfan.c...
Activities:
Distributor, Manufacturer, Custom Manufacturer
Year Founded:
1986
Brand Names:
Aero-Flo, AeroGrille, CFM, Continental Fan, ELICENT, ELTA, MES, TEK, TMK
Export Markets:
Latin America/Caribbean, Western Europe, Asia, Europe
Officials:
Jud Alexander, V.P., Engineering
Follow
Company on:
This supplier is found in the following categories
See all