Company description by ThomasNet.com
Custom manufacturer of automation, metric press & mold components. Actuators, absorbers, adsorbers, adhesives, adjusters, aluminum extrusions, angles, ball screws, ball bearings, bars, belts & belting, blocks, bolts, brackets, bumpers, bushings, blades, casters, chains, catches, clamps, collars, metric connectors, clamps, collars, temperature controllers, couplings, cylinders, dampers, detergents, button dies, doors, electrodes, feedscrews, fittings, gears, handles, handwheels, micrometer heads, heaters, hinges, hose, knobs, lamps, latches, levers, chain links, bushings, linear shafting, lubricants, manifolds, sheet metals, metric retaining rings, nuts, panels, pins, pipes, angle plates, pulleys, carbide punches, rust removers, retainers, urethane rollers, screws, shims, ejector sleeves, ball bearing splines, gas & coil springs, metric sprockets, X-Y stages, tubes, needle valves & sealing washers are also available in various models & sizes. Materials include 1045 carbon steel, 304, 440C & 420 stainless steel, 2017 aluminum alloy, polyacetal, 4137 alloy steel, brass (C3604) & nylon. Automation, metric press & mold components are suitable for industrial & commercial applications.


Company Information
Company description by Misumi USA
MISUMI USA is known for configurable automation, press and die mold components that enable engineers to specify components through various design parameters. The MISUMI e-Catalog allows users to configure a component, download the CAD, and place orders using the MISUMI Web Ordering System (WOS). Over 1,000,000 metric and inch components are available, many are RoHS compliant and over 30,000 items are in stock and available for same day shipment. Pricing and shipping times are published on MISUMIís web site and in its catalogs. Please visit http://us.misumi-ec.com for more information about Configurable
More...
Components from MISUMI USA. Less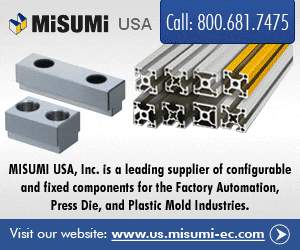 URL:
www.misumiusa.com
Sales:
$250 Mil. and over
Employees:
500-999
Activities:
Distributor, Manufacturer, Custom Manufacturer
Year Founded:
1963
Follow
Company on:
This supplier is found in the following categories
See all