Company description by ThomasNet.com
Distributor of industrial safety, occupational health, industrial hygiene & fire safety equipment & supplies. Products include safety supplies, gloves, facility maintenance products, fire & rescue products, respirators, eye & face protection products, head protection products, hearing protection products, eyewash & showers, fall protection products, clothing, foot protection products, spill control products, chemical storage products, first aid products, signs, gas monitors & traffic control products. Services include equipment rentals, plant safety compliance surveys, safety product training, on-site repair & maintenance services for self-contained breathing apparatus (SCBAs) & instrumentation & technical products.


Company Information
Company description by Orr Safety Corp.
ORR Safety
As a distributor of safety products, we ensure that working persons across America receive the protective equipment necessary to safely perform their duties and return home uninjured. ORR Safety customers rely on our expertise to assist them with choosing products that are (1) right for their workplaces, (2) OSHA compliant, and (3) the best value for their budgets.
For over 60 years, ORR Safety has kept its focus on protecting people, property and the environment. We provide equipment and services for all aspects of Industrial Safety, Occupational Health, Industrial Hygiene, and Fire
More...
Protection. We enable head-to-toe protection with products from over 600 manufactures as well as our own innovative programs for necessities such as Prescription Safety Eyewear and Safety Shoes. ORR Safety also has proven programs for safety equipment rental, vending machines, on-site stores, services and equipment for plant turnarounds or outages, and technical products such as instrumentation and breathing air. ORR Safety is ISO 9001 certified. Less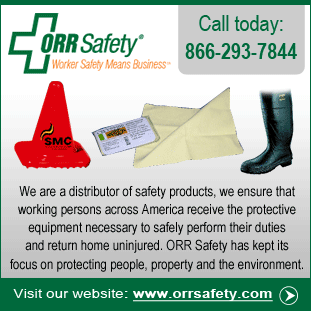 URL:
www.orrsafety.com/
Employees:
200-499
Activities:
Distributor, Custom Manufacturer
Year Founded:
1948
Certification:
Ownership:
Brand Names:
3M, Accu-Shield, Accuform, Advantage, Advil, Aearo, AllSafe, Allwik, American Lock, American-Darling
All Brands...
This supplier is found in the following categories
See all