ISO 9001:2000, ISO 14001:2004 and ISO 9001: 2008 certified worldwide manufacturer of standard and custom LCD modules, displays and monitors. Distributor of drivers and controllers. Types of LCD modules More... include color and monochrome character, graphic, STN, FSTN, chip on glass (COG), chip on board (COB) and tape automated bonding (TAB) modules. Integrated touch panels are also available. Capabilities include designing and product development. LCD modules are used in various applications including ATM machines, stereo equipment, POS systems, handheld devices and restaurant and medical monitoring equipment. LCD modules, displays, panels and monitors are RoHS compliant. Less


Company Information
Microtips Technology strives to be one of the pioneers in new LCD technologies, to evolve with the needs of our customers, and to provide the best possible prices with short lead times.
Established in 1990, we are now one of the leading global manufacturers and suppliers of LCD Modules. Today, we produce a full gamut of color and monochrome graphic LCD, character LCD and custom-made LCD modules. Additionally, we have the ability to produce foremost technology trends such as Color STN, FSTN, Chip on Glass (COG), Chip on Board (COB), Tape Automated Bonding (TAB), and integrated capacitive touch panels.
More...
Further, we offers complete turnkey solutions such as design and product development for our customers (in OEM Design and Manufacturing).

Local sales and engineering support in the Americas, Europe, and Asia have made us a very competitive force in the display industry.

We have ensured that the manufacturing plants in Taiwan and mainland China are equipped with state-of-the-art machinery. Their above standard quality control measures have won us the merit of the ISO9001:2000, ISO14001-2004 and ISO9001:2008 Quality Certified Control and Assurance.

We believe in building a close rapport with our customers and the sales staff takes extreme pride in their customers' end products. Less
Product Information

Recent News & Press Releases
New Scalable PCAP Line
December 9, 2013 — Microtips Technology is excited to announce our new website re-design with great features such as,...
IPS 4.3" WVGA TFT LCD Modules
December 6, 2013 — Liquid crystal display (LCD) modules are commonly used in a variety of applications that are a...
New 7.0 WVGA Thin Film Transistor
October 15, 2013 — Microtips Technology is excited to announce the new high bright 7.0 TFT Modules without Touch...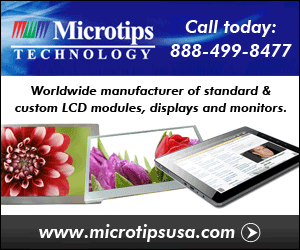 URL:
www.microtipsusa.com
Activities:
Distributor, Manufacturer
Year Founded:
1990
Certification:
Brand Names:
Himax, NJU, RAiO, S-Mos Systems, SamSung, Toshiba
Export Markets:
Latin America/Caribbean, South America, Western Europe, Africa, Canada, Mexico
Follow
Company on:
This supplier is found in the following categories
See all